EversPack makes an issue of the environmental future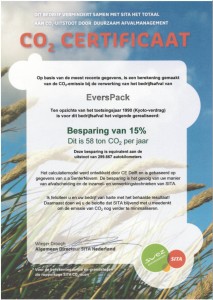 Thus Everspack operates with corporate social responsibility

Commitment to people and the environment and implementing it where possible. That is not a strive but a do. Where possible, saving on excessive use of energy and materials. Ensuring our work is done on a human scale.
That EversPack also acts as a learning company, fits in this endeavor. Young people are given the opportunity to take part in a positive engagement. Also people with occupational disabilities have been contributing for years at the production process of EversPack.
In addition, Everspack is working actively on the reduction from industrial waste that reduces harmful CO2 emissions intensively. The SITO CO2 has indicated that EversPack generates an annual saving of 15% on the CO2 emission, which equals the emission of 299.667 driven kilometres!